Sample 10x10"s custom Oil Portraits
fun square size, more room for detail and the pet's full body too CLICK TO ENLARGE (SOME IMAGES)


Sample 10x12"s custom Oil Portraits
allows more space for a specific background CLICK TO ENLARGE (SOME IMAGES)

Sample 12x12"s custom Oil Portraits&nbsp&nbsp&nbsp
a terrific size in the square format that works well with other 12x12"s groupings on your wall CLICK TO ENLARGE (SOME IMAGES)

Sample 12x16"s custom Oil Portraits &nbsp
just a good-lookin' size CLICK TO ENLARGE (SOME IMAGES)

Sample 16x20"s custom Oil Portraits
one of many traditional sizes for portraiture as well as a standard frame size CLICK TO ENLARGE (SOME IMAGES)

Sample 18x24"s and Larger&nbspcustom Oil Portraits&nbsp
where your imagination has no limits CLICK TO ENLARGE

Sample doubles & triples (various sizes)&nbspcustom Oil Portraits&nbsp&nbsp
larger sizes accommodates 3 or more Pets-in-One-Painting CLICK TO ENLARGE (SOME IMAGES)






Sample Pets-with-Persons (various sizes)&nbsp&nbsp&nbsp
capture in oil paints that most special loving bond. (A custom person-portrait only is also possible.) CLICK TO ENLARGE (SOME IMAGES)


Sample Pets-in-Costume
shown here are Neil Patrick Harris with his cuties Watson, Fred & Gidget of the Neil Patrick Harris-Burtka Gang
AND
LG-Mobile Contest Winner Eric with his Royals Imas & Jonas
pets in costumes are so cute, and they'll love you for not REALLY making them wear those outrageous get-ups MANY MORE Pets-in-Costume SAMPLES HERE
The Scoop (the long/LA and short/SA of it):
Q How does this all work?
SA Really well, really
LA Start by emailing some photos to me: puci@puciart.com (large size photos with good resolution please)
- I create the pre-painting composition using your photos and Adobe Photoshop
- Once you OK the composition, I paint the portrait
- I email you some photos of the finished painting
- You make payment
- I mail your painting to you
- all in about 5-6 weeks
Q How do I get my photos to you?
SA Whatever works, but send good ones* OK?
LA Several ways:
1. via email: you may send your digital photo(s) to my email address: puci@puciart.com
2. via snail mail: you may send originals or a color copy of your photo(s) to my postal address
3. via internet: I can take a screenshot of your photo(s) from the internet if you have it posted somewhere and if the photo(s) are a large file size with good resolution
* (A good photo will be a large file size, no harsh flash, have good contrast of the pet, will be sharp, and will ideally be at close range)

Q I can't get a good photo of Bubbles. What should I do?
SA Doggy & kitty treats might help
LA If all else fails, just send me what you've got and we'll go from there. I'll probably compensate by going with a more abstract brushwork, vibrant color scheme,
and/or surrounding the pet with lots of background space.
Q How long does it take?
SA About 5-6 weeks most of the year
LA Thinking Christmas gifts? Great! But please give me plenty of advance notice, as I'm usually "booked" sometime in October; and I must allow time for the oil paints to dry & for shipping too.
(I do have an alternate option that has worked well in Christmas's past. Interested in knowing more? Let's chat: puci@puciart.com )
Q May I order a size larger than 8x8" or more than one pet in the same painting? How about Mom with her dear MiniPoo?
SA Absolutely and... the more the merrier
LA Here are some sample size/price options.


Q Should I expect any extra charges?
SA Maybe; but NEVER any surprise charges; we'll always discuss it first.
LA I'm happy to accomodate requests for a simple background and/or "prop" (such as a beloved toy) at no extra charge when customer photos are provided.
However, some situations may incur an additional 10% of the painting price, such as:
-- requests for a specific and/or significant background when proper customer photos are not provided
-- the need for puci to fill-in incomplete & complex customer photos (such as missing body parts)
-- fixing poor photo resolution of your photos by incorporating puci's own reference photos
-- a complex &/or specific composition that requires more time (in my pre-painting digital studio) than usual
-- significant changes to a successful finished painting (especially when requests are made AFTER you've OK'ed the pre-painting composition)
Q How much will shipping cost?
SA Not too much
LA The 12x12" or smaller size painting will cost $19.35 S&H when mailed within the U.S. via USPS Flat Rate Priority Mail. Larger sizes vary in price.
- The cost of signature confirmation is included. Optional insurance is on you.
- Locals may pick up the painting in person and eliminate all these fees.
- International buyers please email me for shipping prices: puci@puciart.com
Q How do I pay you?
SA Hopefully with a smile LA We'll figure out which option is best for you: PayPal, personal check, cashier's check, money order, credit card and cash accepted; Thanks.
Q When do I pay you?
SA When you smile
LA I don't expect final payment until AFTER you've seen photos of the finished oil painting. Paintings $300 or more will require a 20% deposit; Thanks.
Q I'd like my painting to last a long time.
SA I'm on that
LA Your finished oil portrait will be painted on prepared cotton fabric stretched/mounted onto a prepared hardwood board and stapled to the back.
I use a varnish-type medium after the painting is finished (as a protective coating as well as to provide an even sheen on the dried oil paints.)
Oil paints are rich in color and resilient to time and to the elements.
Q Can you describe your process a little bit?
SA Sure thing.
LA I hand-paint all my paintings using oil paints and brushes. (You'll be able to see the texture of the paint, especially in the areas that I think need a thicker application of oil paint.)
After we chat about your vision for the painting & we decide on the best photo(s) to base the painting on, I work out the composition in Adobe Photoshop for you to OK. Then, I transfer
this image onto the prepared painting surface in preparation to paint. I also print out a copy of this composition to use as my guide as I'm painting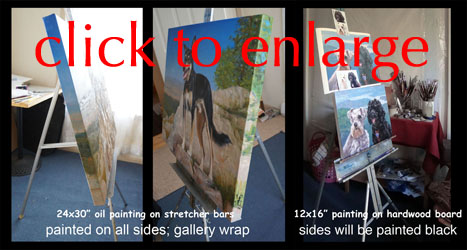 Q Can I frame the painting myself?
SA Sure
LA The painting will be ready to hang as is (with the sides painted) or you may frame it just as a painting on stretcher bars is framed.


puci Customer Feedback
(real names by permission)
also, lots of wonderful reviews HERE (thank you very much!)
"We LOVE it!!!! Thank you so much!!" ~Joe & Christine Bramuchi (Ruby's portrait)
"We were so excited and happy to get it! I sat right down and wrote a long note to you with tears all over it!... I feel you can almost

see her
little soul in her eyes". ~Diane Solomon (portrait of Olivia)
"The painting you did of Codi is absolutely gorgeous in person!! In fact, I may have to keep it for myself and get another done for mom."

~Julie Jackson (portrait of Codi)
"It's gorgeous! Thank you so much! I can't tell you how much our clients are going to love this."
~Christie Shepard (Quincy's portrait)
"My family, as predicted, absolutely lost their minds over your paintings. My mom actually cried, LOL. Oh, moms ;)"

~Leanna Trunzo (portraits of Caesar, Chester, Chloe, Lenny and Louie)
"We just received the Zue painting! ... We are blessed to have your work on our wall!"
~Kerry Andrews (portrait of Zue Zue)
"Darlene!!!! I just received Dante's portrait .. and I was in tears!! The eyes say it all.. you captured Dante's eyes so beautifully .... I just keep looking at them in
the painting then back to Dante in real life! Really wonderful ... and I cannot thank you enough. You truly are a gifted artist!"
~Tiffany Wilson (Dante's portrait)
















"I LOOOOOVE IT!""perfect this is perfect thanks so much."
"...Do you capture personality, or what???? Every painting - personality PLUS."
"Just wanted to thank you again for the lovely portrait...(he) will love it this Christmas."
"It arrrived today and all I can really say is WOW, the work you did is just absolutely amazing. I'm floored..."
"The painting arrived yesterday. It is awesome! ...it made him cry! He loves it."
"... It really captured his look and his spirit. Thank you so much, we really love it."
"thanks you soooo much my sweet man will love it!"
"we just got it. I absolutely love it."
"That is awesome!!! Thank you so much!!"
"It is going to be a great mother's day present my mom will cherish forever!"
~~~~~~~~~~~~~~~~~~~~


images and content © 2019 Darlene Pucillo (aka: puci)
(Purchase of these paintings entitles the purchaser to the original art only. All reprocduction rights remain the property of the artist.)