The Scoop (Q & A):
Q How does this all work?
A Really well, really... Start by emailing some photos to me: puci@puciart.com (large size photos with good resolution please if possible).
- I create the pre-painting composition using your photos and Adobe Photoshop
- Once you OK the composition, I paint the portrait
- I email you some photos of the finished painting
- You make payment
- I mail your painting to you
- all in a matter of weeks

Q How do I get my photos to you?
A Whatever works, but send good ones* OK?
1. via email: you may send your digital photo(s) to my email address: puciart@gmail.com
2. via snail mail: you may send originals or a color copy of your photo(s) to my postal address
3. via internet/social media: I can take a screenshot of your photo(s) from the internet if you have it posted
somewhere and if the photo(s) are a large file size with good resolution
4. via smartphone/ text or email
* (A good photo will be a large file size, no harsh flash, have good contrast of the pet, will be
sharp, and will ideally be at close range)

Q I can't get a good photo of Bubbles. What should I do?
A Doggy & kitty treats might help. But if all else fails, just send me what you've got and we'll go from there. I can usually find suitable online images to
"fill in" what's missing.

Q How long does it take?
A These days about 2-3 weeks (from when you send your photos, to when you receive your painting

Q May I order a size larger than 8x8" or more than one pet in the same painting? How about Mom with her dear MiniPoo?
A Absolutely and... the more the merrier. Here are some sample size/price options: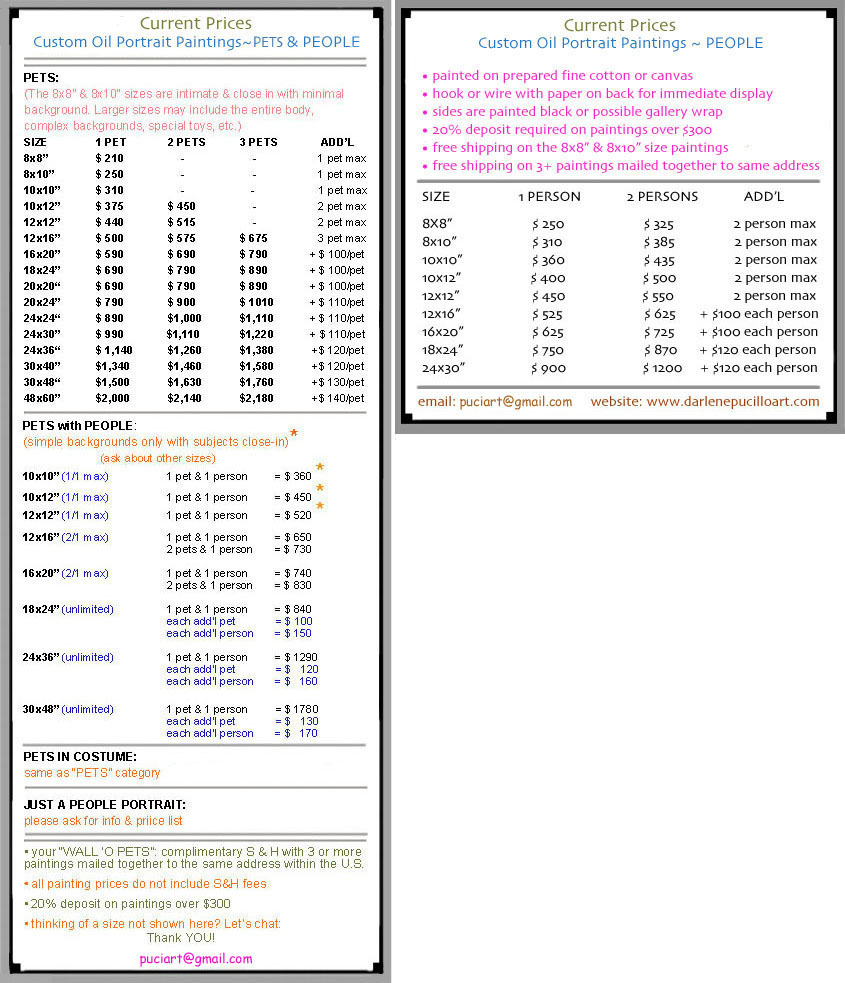 Q Should I expect any extra charges?
A No
Q How much will shipping within the U.S. cost?
A All paintings, All sizes are free.
Q How do I pay you?
SA We'll figure out which option is best: PayPal, Venmo, personal check, cashier's check, money order, credit card and cash are welcomed; Thanks.
Q When do I pay you?
A I don't expect final payment until AFTER you've seen photos of the finished oil painting. Paintings $300 or more might require a 20% deposit; Thanks.
Q I'd like my painting to last a long time.
A I'm on that. Your finished oil portrait will be painted on prepared cotton fabric stretched/mounted onto a prepared hardwood board and stapled
to the back. I use a varnish-type medium after the painting is finished (as a protective coating as well as to provide an even sheen on the dried oil paints.) Oil paints are rich in color and resilient to time and to the elements.
Q Can you describe your process a little bit?
A Sure thing.I hand-paint all my paintings using oil paints and brushes. (You'll be able to see the texture of the paint, especially in the areas that
I think need a thicker application of oil paint.) After we chat about your vision for the painting & we decide on the best photo(s) to base the painting on, I work out the composition in Adobe Photoshop for you to OK. Then, I transfer this image onto the prepared painting surface in preparation to paint. I also print out a copy of this composition to use as my guide as I'm painting.
Q Can I frame the painting myself?
A Sure, but your painting will be ready to hang/display as soon as you receive it (with the sides painted black or w/gallery wrap on large sizes upon request .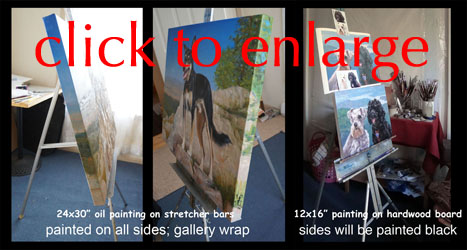 ~~~~~~~~~~~~~~~~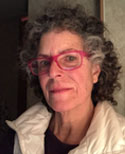 images and content © 2023 Darlene Pucillo (aka: puci)
(Purchase of these paintings entitles the purchaser to the original art only. All reproduction rights remain the property of the artist)